Advantages of GeoGrip
GeoGrips are individually vulcanized rubber pads with internal core metals. They are easily fitted to the undercarriage of excavators and other machines in the same way as conventional steel shoes. GeoGrips are a good alternative to large steel tracks which damage the ground surface and for which continuous rubber tracks are not available.
Bridgestone was first to invent this type of pad and has many years of development and sales experience supplying GeoGrips to the construction market.
Easy installation

GeoGrips are fitted using four bolts (not included) directly onto the track chain links of the machine undercarriage.

Easy replacement

Individual worn or damaged GeoGrips are easily replaced in minutes, thereby reducing downtime.

Kind to road surface

Damage to roads and other surfaces caused by traditional steel shoes is avoided.

Low noise and low vibration

Vibration and noise are reduced compared to steel tracks.

High durability

GeoGrips are manufactured using one of Bridgestone's high durability anti-external-cut and anti-chunking rubber compounds. Thanks to Bridgestone's high quality advanced rubber and thick rubber volume, GeoGrips provide much higher durability than common clip on type pads.
GeoGrip Brochure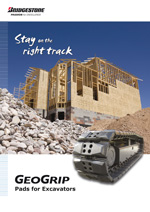 All files are in Adobe Acrobat Format.
To view them, you will need to download Adobe Reader.