GeoGrip design and construction
Years of development at Bridgestone have resulted in the GeoGrip incorporating a number of leading edge technologies.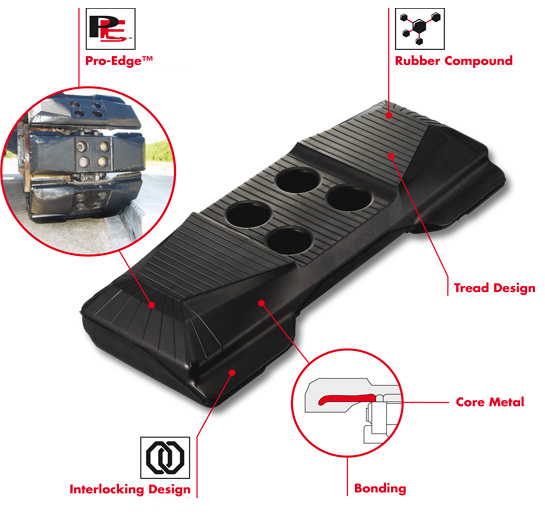 Pro-Edge™

GeoGrips use Bridgestone's latest "Pro-Edge™" embedded core metals. The special rounded profile wing design combined with the tapered rubber tread lug profile disperse stress concentrations which significantly reduces edge-cut damage caused by riding over curbs or sharp obstacles.

Rubber Compound

The core metals are embedded in a thick super abrasion-resistant rubber compound which provides a highly robust and durable solution for tracked machines.

Tread Design

GeoGrip's tread profile is based on Bridgestone's optimized design for high durability, anti-chunking, anti-cut and good turnability.

Core Metal

GeoGrip embedded core metals are forged using special treated steel to provide greater strength and anti-abrasion performance.

Bonding

The embedded core metals are specially treated using high quality bonding agents to ensure excellent adhesion between rubber and metal during the vulcanisation process. (This is similar to the bonding process used in Bridgestone's continuous rubber tracks.)

Interlocking Design

GeoGrip's unique interlocking design reduces the build-up of sand, gravel, rocks and other material or objects in and around the undercarriage, thereby avoiding premature damage.
GeoGrip Brochure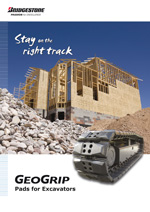 All files are in Adobe Acrobat Format.
To view them, you will need to download Adobe Reader.