Anti-Cut Rubber
Harsh working conditions are normal for rubber track operations. Such conditions cause external cuts and chunking to the tread rubber. Moisture and mud can penetrate from external cuts, causing internal steel parts to progressively weaken. This can lead to fatal failure such as steel cord breakage.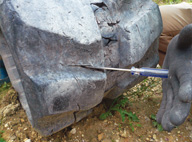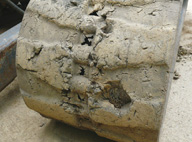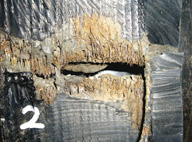 Solution

Anti-Cut Rubber

The development of high quality rubber compounds is one of Bridgestone's core competencies. Bridgestone has developed an Anti-Cut Rubber compound which significantly minimizes the cut damage and chunking caused by sharp objects. This increases the life of the track by reducing premature breakage.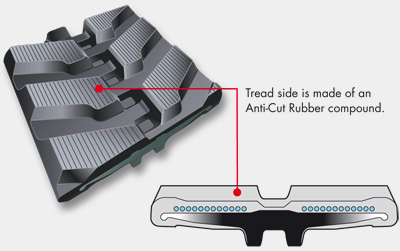 Tested and proven
Test data shows reduced occurrences of cut damage and chunking. The photos below compare the track condition after 140hrs of continuous tracking using a 3.5ton machine at Bridgestone's proving ground.